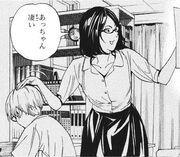 She is the mother of Akito Takagi. She is a high school teacher. Her first appearance was in Chapter 8, in a flashback of Takagi's, when telling Mashiro why he decided to become a mangaka.
Personality
Edit
Appearance
Edit
After Takagi's father lost his job as a banker, his mother pushed him to pursue his studies, in an effort to extract revenge on those who fired Mr. Akito. In the 5th grade, Tagaki stood up to her, telling her that he isn't her tool. She never questioned the path that Takagi took after that incident.
External links
Edit
Ad blocker interference detected!
Wikia is a free-to-use site that makes money from advertising. We have a modified experience for viewers using ad blockers

Wikia is not accessible if you've made further modifications. Remove the custom ad blocker rule(s) and the page will load as expected.