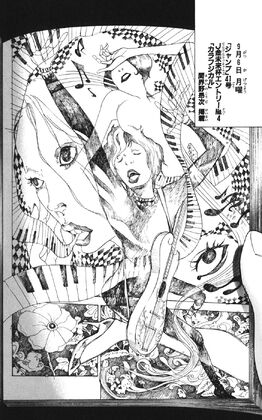 Colorfusical (カラフジカル, Karafujikaru) was a one-shot manga made by Koji Makaino for the Gold Future Cup.
The story was about a hero who could change colors with his eyes and change peoples hearts with his voice. Moritaka stated that it was too surreal for a manga. It came in last place among the other manga for the Gold Future Cup.
Fukuda called it an insult to manga.
Mashiro compared it to a storybook.
KOOGY was on such an ego trip, that the story barely made any sense.
Ad blocker interference detected!
Wikia is a free-to-use site that makes money from advertising. We have a modified experience for viewers using ad blockers

Wikia is not accessible if you've made further modifications. Remove the custom ad blocker rule(s) and the page will load as expected.