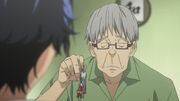 Fumi Mashiro is the father of Masahiro Mashiro, Nobuhiro Mashiro, and the father-in-law of Kayoko Mashiro. He is also grandfather of Moritaka Mashiro. He is the one who gives Moritaka, Nobuhiro's studio key; along with Masahiro, Fumi believed Moritaka would follow in Nobuhiro's footsteps and become a mangaka, since he respected him so much. In the start of the anime, he tends to shut up Moritaka's mother with subtle, off-topic, gestures and requests when she is going to far. 
Ad blocker interference detected!
Wikia is a free-to-use site that makes money from advertising. We have a modified experience for viewers using ad blockers

Wikia is not accessible if you've made further modifications. Remove the custom ad blocker rule(s) and the page will load as expected.