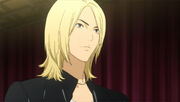 HYDE is a producer to Koji Makaino
After Koogy announced his hiatus from music to focus on drawing manga, HYDE tells Koogy that he would wait for his return to music in the future.
"HYDE" is a anime exclusive character modeled after L'Arc~en~Ciel singer and lyricist Hyde who voiced the character in Episode 21. Hyde also translated and performed the song "EUPHORIA" by Vamps from their second studio album: "Beast" into Japanese since the original song was written in English. "EUPHORIA" was used as the song Koogy sang before announcing his hiatus. It has been reported the song will appear on Vamps seventh single " Memories/Get Up" that will be released on December 15, 2010
Ad blocker interference detected!
Wikia is a free-to-use site that makes money from advertising. We have a modified experience for viewers using ad blockers

Wikia is not accessible if you've made further modifications. Remove the custom ad blocker rule(s) and the page will load as expected.