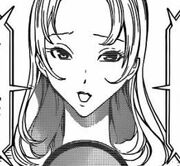 Nanami Otsuki was 2nd in popular voice actress poll in mangazine. Her dream is to play Naho in Reversi.
She first appeared in chapter 20, a small appearance on the TV screen. She was in a cosplay suit of Saint Visual Girls Academy, as the lead roll of Erina in the same anime. Although it was a small appearance, but she introduced her full name and her roll. Enven though no one noticed, but she was formerly a co-worker of Azuki Miho.
Ad blocker interference detected!
Wikia is a free-to-use site that makes money from advertising. We have a modified experience for viewers using ad blockers

Wikia is not accessible if you've made further modifications. Remove the custom ad blocker rule(s) and the page will load as expected.