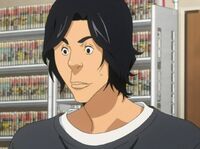 Ogawa was one of Ashirogi Muto's assistants, along with Kato and Takahama when Detective Trap was being published. Due to his wealth of knowledge and experience he was the head assistant. He did the backgrounds for Detective Trap. Then when Reversi was serialized, Ogawa was hired back as a fourth assistant to help them keep up with two serialized series. He is also an assistant for Shonen 3. He is currently 37 years old and has a wife and three kids.
Appearence
Edit
Personality
Edit
Ogawa seems to be a natural leader and often obsesses over due dates. He seems to love his family and tries to come home every night (or his wife will nag at him). Over all he does care about his job, the manga he is currently working on and his fellow Mangaka. When Mashiro was behind on the first chapter of Reversi Ogawa even brought in 2 extra assistants to help out.
External Links
Edit
Ad blocker interference detected!
Wikia is a free-to-use site that makes money from advertising. We have a modified experience for viewers using ad blockers

Wikia is not accessible if you've made further modifications. Remove the custom ad blocker rule(s) and the page will load as expected.