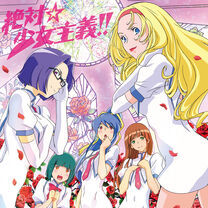 Saint Visual Girls Academy
(聖ビジュアル女学院高等部,
Sei bijuaru jogakuin kōtō-bu
) is a late night summer
anime
series.
Miho Azuki
made her
seiyū
debut in this show with a minor voice role. She had four lines in it, which were "I love you, Erina." She later sings in the ending of it. Her characters name is Reika Saotomeji.
Saint Visual Girls Academy came in 11th in the 1st Bakuman "Manga" Popularity Poll and it came in 16th in the 2nd, even though it's technically not a manga.
Ad blocker interference detected!
Wikia is a free-to-use site that makes money from advertising. We have a modified experience for viewers using ad blockers

Wikia is not accessible if you've made further modifications. Remove the custom ad blocker rule(s) and the page will load as expected.