Seigi no Mikata (Mikata the Hero or Mikata's Justice in the manga) is a manga written and illustrated by Shoyo Takahama. Takahama started the series after Business Boy Kenichi was cancelled. A drama-adaption of Seigi no Mikata is being broadcasted and it got Seigi no Mikata to 3rd place in the recent reader results. In the battle of trying to beat Crow's consecutive run of first place, Seigi no Mikata got color pages, but was only able to second place.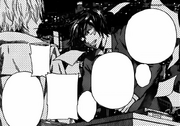 Seigi no Mikata is about a young public prosecutor trying to solve crimes. Some known characters are:
Akira (Main Character, Prosecutor)
Hiroto (Akira's Best Friend, Detective)
Ad blocker interference detected!
Wikia is a free-to-use site that makes money from advertising. We have a modified experience for viewers using ad blockers

Wikia is not accessible if you've made further modifications. Remove the custom ad blocker rule(s) and the page will load as expected.