Yujiro Hattori
Talk

5
449pages on
this wiki
Yujiro Hattori

Name

Yujiro Hattori

Kanji

服部雄二郎

Romanji

Hattori Yuujirou

Characteristics

Age

27 (debut), 33 (current)

Gender

Male

Eyes

Black

Hair

Orange

Profession

Occupation

Manga Editor

Stories

Crow (editor)
Kiyoshi Knight (editor)
Road Racer Giri (editor)
Large Bander

Magazines

Weekly Shonen Jump

Personal Status

Marital Status

Single

Relatives

Unknown

Education

Unknown

First Appearance

Manga Debut

Conditions and Moving to Tokyo (Chapter 9)

Anime Debut

N/A

Video Game Debut

N/A

Voices

Japanese Voice

Hirofumi Nojima

English Voice

Chris Niosi
Yujiro Hattori (born April 3, 1982 in Kanagawa-ken, Japan) works for Shueisha and is Eiji Nizuma and Shinta Fukuda's editor. He seems somewhat carefree towards his job and doesn't seem to take it seriously enough, allowing Eiji to do whatever he wants most of the time due to Eiji's eccentricities and frequently having to deal with Fukuda's fits of anger. However, he expresses some ambition towards becoming a captain (deputy assistant editor), even though he is concerned with the idea of having edit several ongoing series at a time.
Despite his attempts reign in Eiji, Yujiro doesn't bother with asking for names from Eiji because Eiji's work usually requires very few adjustments. Once Eiji realizes that there is some value in creating them for structure, he begins producing them for Yujiro. Yujiro also initially shows some reluctance towards Fukuda becoming serialized, though Fukuda's stability as a mangaka soon changes Yujiro's mind.
Over time, he openly shows more responsibility and respect for his mangaka and the work that they've done. He is eventually promoted to become a captain in the editing department at Shonen Jump.
Appearance
Edit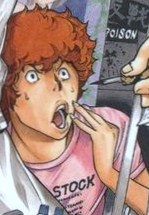 Yujiro is a young man with short, curly, orange-red hair. His day-to-day outfits are a t-shirt and a pair of jeans with sneakers. For formal events like the New Year's party, he wears a suit.
Personality
Edit
Yujiro hardly argues with Jump's policies and its then-top mangaka Niizuma, and often enforces both. He often appears as a background character, reiterating thoughts on certain aspects as well as giving other editors suggestions. While initially arrogant towards Hattori, Yujiro eventually warms up to him to the point where they meet regularly and exchange ideas as editors.
Crow's Serialization
Edit
Golden Future Cup
Edit
External links
Edit